Modular Hydraulic Trailer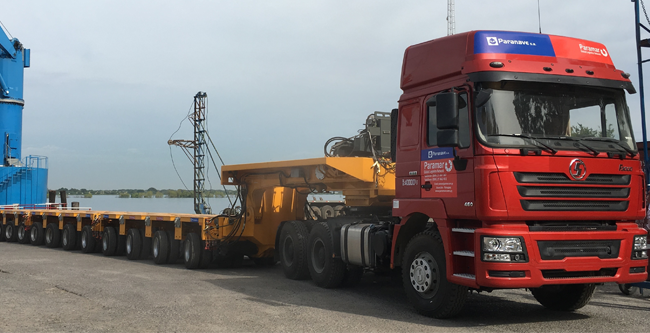 Features & Main Qualities
Can be fully coupled with original Goldhofer THP/SL modular trailer.
Length and cross combination module.
Box-shaped center frame with integrated air and hydraulic oil tank.
High point load in the center tube and the closed outer fields.
Front and rear bolt-clutch for longitudinal combinations.
Pendant axle aggregate at swivel head mounted on the vehicle frame.
Hydro-pneumatic gas pressure accumulator suspension.
Hose rupture safety valve on all axle aggregates.
The chassis has integrated, hydro-mechanical 2-circuit all wheel steering.
Maximum steering + / - 55° in the ride heights.
Steering in the middle 1 pair of integrated steering cylinder in the frame.
2-line all-wheel air brakes and spring-loaded parking brake.
Complete 4-way piping for optimum combination of the modules.
Main Technical Parameters.
Capacity
45 Tons/axle line @0.5km/h
Dead weight
3.5Tons/axle line
Platform width (mm)
2,990
Platform height (mm)
1,175± 300 Total suspension stroke 600 mm
Wheelbase (mm)
1,500
Trend (mm)
1,800 / 735
Tire
215/75 R17.5 8 tires / axle line
Rim
6.00 - 17.5 (10 holes)
Approach / Departure angle
25° / 28°
Steering Mechanism
Hydraulic - mechanic all-wheel steering
Suspension
Hydraulic suspension
Support mode of platform
3 points and 4 points.
Brake System
Dual pipeline control. Dual shoe brake and spiring brake for all axles..
Max. steering angle of first wheel
55°
Load Capacity / Speed Data Sheet
Speed(Km/h)
0.5
1
5
10
20
30
40
45
50
62
80
Gross capacity per line (Tons)
45
42.2
36.6
31.4
26.1
21.8
20.0
18.6
18.4
18
16.4
Net payload per line(Tons)
41.5
38.7
33.1
27.9
22.6
18.3
16.5
15.1
14.9
14.5
12.9
| | |
| --- | --- |
| TYPE - TIPO | Barge / Barcaza |
| ESLORA / LENGHT | 81,40 metros / meters |
| MANGA / BEAM | 15,24 metros / meters |
| PUNTAL / DEPTH | 3,80 metros / meters |
| DWT / TONELADAS DE CARGA | 2.600 Toneladas / ton |
| YEAR BUILT / REBUILT-AÑO DE CONSTRUCCION | 1944 / 2005 |
| FLAG / BANDERA | Paraguayan |
| REGISTER NBR/ MATRICULA NUMERO | 1945 |
| IMO NUMBER / NUMERO IMO | - |
| CLASS / CLASE | RINA |
| NET TON / TONELADAS REGISTRO NETO | 778 |
| GROSS TON / TONELADAS REGISTRO BRUTO | 983 |
| CARGO CAPACITY - CAPACIDAD CARGA | 152 TEUS |
| REEFER PLUGS- ENCHUFES CTRS REFRIG. | 44 |
| BHP / HP | - |
| SPEED / VELOCIDAD | - |
| MAIN ENGINES / MOTORES PROPULSORES | Make/ Model / HP |
| Main Engine 1 | - |
| Main Engine 2 | - |
| Aux Engine 1 | CAT GES330 - 330 KVA - 50 HZ |
| Aux Engine 2 | - |
| Fuel oil capacity / Capacidad fuel oil | - |
| Gas oil Capacity / capacidad Gas Oil | - |
| Ballast capacity / Capacidad Lastre | - |
| F.W. Capacity / Agua Potable | - |
| H&M INSURANCE / SEGURO DE CASCO | Boston Seguros Unum LA |
| P & I / PROTECCION E INDEMNIZACION | Shipowners Mutual P&I |
| | |
| --- | --- |
| TYPE - TIPO | Tug / Remolcador |
| ESLORA / LENGHT | 28,53 metros / meters |
| MANGA / BEAM | 7,62 metros / meters |
| PUNTAL / DEPTH | 3,48 metros / meters |
| DWT / TONELADAS DE CARGA | - |
| YEAR BUILT / REBUILT-AÑO DE CONSTRUCCION | 1947 / 2006 |
| FLAG / BANDERA | Paraguayan |
| REGISTER NBR/ MATRICULA NUMERO | 1862 |
| IMO NUMBER / NUMERO IMO | - |
| CLASS / CLASE | - |
| NET TON / TONELADAS REGISTRO NETO | 96 |
| GROSS TON / TONELADAS REGISTRO BRUTO | 199 |
| CARGO CAPACITY - CAPACIDAD CARGA | - |
| REEFER PLUGS- ENCHUFES CTRS REFRIG. | - |
| BHP / HP | 1270 HP / 948 KW |
| SPEED / VELOCIDAD | 12 knots / 12 nudos |
| MAIN ENGINES / MOTORES PROPULSORES | Make/ Model / HP |
| Main Engine 1 | Enterprise DMG 26 - 635 HP / 474 kw |
| Main Engine 2 | Enterprise DMG 26 - 635 HP / 474 kw |
| Aux Engine 1 | DETROIT 3151 - 40 KVA |
| Aux Engine 2 | DETROIT 3151 - 40 KVA |
| Aux Engine 3 | PERKINGS - GEP65 / 65 KVA |
| Gas oil Capacity / capacidad Gas Oil | 90 ton |
| Ballast capacity / Capacidad Lastre | 20 ton |
| F.W. Capacity / Agua Potable | 30 ton |
| H&M INSURANCE / SEGURO DE CASCO | Boston Seguros Unum LA |
| P & I / PROTECCION E INDEMNIZACION | Shipowners Mutual P&I |
| | |
| --- | --- |
| TYPE - TIPO | Tug / Remolcador |
| ESLORA / LENGHT | 31,00 metros / meters |
| MANGA / BEAM | 9,20 metros / meters |
| PUNTAL / DEPTH | 4,20 metros / meters |
| DWT / TONELADAS DE CARGA | - |
| YEAR BUILT / REBUILT-AÑO DE CONSTRUCCION | 2009 |
| FLAG / BANDERA | Paraguayan |
| REGISTER NBR/ MATRICULA NUMERO | 3518-RE |
| IMO NUMBER / NUMERO IMO | 9551090 |
| CLASS / CLASE | BUREAU VERITAS |
| NET TON / TONELADAS REGISTRO NETO | 87.34 |
| GROSS TON / TONELADAS REGISTRO BRUTO | 296.97 |
| CARGO CAPACITY - CAPACIDAD CARGA | - |
| REEFER PLUGS- ENCHUFES CTRS REFRIG. | - |
| BHP / HP | 3200 HP / 2.386 KW |
| SPEED / VELOCIDAD | 12 knots / 12 nudos |
| MAIN ENGINES / MOTORES PROPULSORES | Make/ Model - HP/kw |
| Main Engine 1 | Cummins KTA 50 M2 - 1600HP / 1193 kw |
| Main Engine 2 | Cummins KTA 50 M2 - 1600HP / 1193 kw |
| Aux Engine 1 | Cummins 6 BT 5.9 DM - 97 KVA |
| Aux Engine 2 | Cummins 6 BT 5.9 DM - 97 KVA |
| Gas oil Capacity / capacidad Gas Oil | 255 ton |
| Ballast capacity / Capacidad Lastre | 42 ton |
| F.W. Capacity / Agua Potable | 40 ton |
| H&M INSURANCE / SEGURO DE CASCO | Lnd - Willis Ltd. |
| P & I / PROTECCION E INDEMNIZACION | Shipowners Mutual P&I |
| | |
| --- | --- |
| TYPE - TIPO | Container Vessel / Buque Motor |
| ESLORA / LENGHT | 114,45 metros / meters |
| MANGA / BEAM | 20,30 metros / meters |
| PUNTAL / DEPTH | 8,20 metros / meters |
| DWT / TONELADAS DE CARGA | 4.150 Toneladas / ton |
| YEAR BUILT / REBUILT-AÑO DE CONSTRUCCION | 1970 |
| FLAG / BANDERA | Paraguayan |
| REGISTER NBR/ MATRICULA NUMERO | 3456-BM |
| IMO NUMBER / NUMERO IMO | 7034878 |
| CLASS / CLASE | RINA |
| NET TON / TONELADAS REGISTRO NETO | 1483 |
| GROSS TON / TONELADAS REGISTRO BRUTO | 4944 |
| CARGO CAPACITY - CAPACIDAD CARGA | 486 TEUS |
| REEFER PLUGS- ENCHUFES CTRS REFRIG. | 51 |
| BHP / HP | 6.000 HP / 4.412 kw /td> |
| SPEED / VELOCIDAD | 13 knots / 13 nudos |
| MAIN ENGINES / MOTORES PROPULSORES | Make/ Model - HP/kw |
| Main Engine 1 | MWM 501-8U - 3000 HP / 2206 kw |
| Main Engine 2 | MWM 501-8U - 3000 HP / 2206 kw |
| Aux Engine 1 | MWM - D232 - 192 KVA |
| Aux Engine 2 | SCANIA - DS113 / 316 KVA |
| Aux Engine 3 | SCANIA - DS113 / 316 KVA |
| Aux Engine 4 | MWM - D232 / 100 KVA |
| Aux Engine 5 | MWM - DGC 763 / 75 KVA |
| Fuel oil capacity / Capacidad fuel oil | 721,20 ton |
| Gas oil Capacity / capacidad Gas Oil | 63,78 ton |
| Ballast capacity / Capacidad Lastre | 1352,34 ton |
| F.W. Capacity / Agua Potable | 134,67 ton |
| H&M INSURANCE / SEGURO DE CASCO | Boston Seguros Unum LA |
| P & I / PROTECCION E INDEMNIZACION | Shipowners Mutual P&I |
| | |
| --- | --- |
| TYPE - TIPO | Tug / Remolcador |
| ESLORA / LENGHT | 33,20 metros / meters |
| MANGA / BEAM | 9,76 metros / meters |
| PUNTAL / DEPTH | 4,30 metros / meters |
| DWT / TONELADAS DE CARGA | - |
| YEAR BUILT / REBUILT-AÑO DE CONSTRUCCION | 2011 |
| FLAG / BANDERA | Paraguayan |
| REGISTER NBR/ MATRICULA NUMERO | 3857-RE |
| IMO NUMBER / NUMERO IMO | 9535503 |
| CLASS / CLASE | BUREAU VERITAS |
| NET TON / TONELADAS REGISTRO NETO | 87.34 |
| GROSS TON / TONELADAS REGISTRO BRUTO | 370 |
| CARGO CAPACITY - CAPACIDAD CARGA | - |
| REEFER PLUGS- ENCHUFES CTRS REFRIG. | - |
| BHP / HP | 3.200 HP / 2.386 KW |
| SPEED / VELOCIDAD | 12 knots / 12 nudos |
| MAIN ENGINES / MOTORES PROPULSORES | Make/ Model / HP |
| Main Engine 1 | Cummins KTA 50 M2 - 1600HP / 1193 kw |
| Main Engine 2 | Cummins KTA 50 M2 - 1600HP / 1193 kw |
| Aux Engine 1 | Cummins 6 BT 5.9 DM - 97 KVA |
| Aux Engine 2 | Cummins 6 BT 5.9 DM - 97 KVA |
| Gas oil Capacity / capacidad Gas Oil | 294 ton |
| Ballast capacity / Capacidad Lastre | 60 ton |
| F.W. Capacity / Agua Potable | 44 ton |
| H&M INSURANCE / SEGURO DE CASCO | London - Willis Ltd. |
| P & I / PROTECCION E INDEMNIZACION | Shipowners Mutual P&I |
| | |
| --- | --- |
| TYPE - TIPO | Tug / Remolcador |
| ESLORA / LENGHT | 32,40 metros / meters |
| MANGA / BEAM | 9,15 metros / meters |
| PUNTAL / DEPTH | 4,48 metros / meters |
| DWT / TONELADAS DE CARGA | - |
| YEAR BUILT / REBUILT-AÑO DE CONSTRUCCION | 2012 |
| FLAG / BANDERA | Paraguayan |
| REGISTER NBR/ MATRICULA NUMERO | 3883-RE |
| IMO NUMBER / NUMERO IMO | 9545974 |
| CLASS / CLASE | CLASS NK |
| NET TON / TONELADAS REGISTRO NETO | 111 |
| GROSS TON / TONELADAS REGISTRO BRUTO | 369 |
| CARGO CAPACITY - CAPACIDAD CARGA | - |
| REEFER PLUGS- ENCHUFES CTRS REFRIG. | - |
| BHP / HP | 3.200 HP / 2.386 KW |
| SPEED / VELOCIDAD | 12 knots / 12 nudos |
| MAIN ENGINES / MOTORES PROPULSORES | Make/ Model / HP |
| Main Engine 1 | Cummins KTA 50 M2 - 1600HP / 1193 kw |
| Main Engine 2 | Cummins KTA 50 M2 - 1600HP / 1193 kw |
| Aux Engine 1 | Cummins 6 BT 5.9 DM - 97 KVA |
| Aux Engine 2 | Cummins 6 BT 5.9 DM - 97 KVA |
| Gas oil Capacity / capacidad Gas Oil | 269 ton |
| Ballast capacity / Capacidad Lastre | 60 ton |
| F.W. Capacity / Agua Potable | 53 ton |
| H&M INSURANCE / SEGURO DE CASCO | London - Willis Ltd. |
| P & I / PROTECCION E INDEMNIZACION | Shipowners Mutual P&I |
| | |
| --- | --- |
| TYPE - TIPO | Barge / Barcaza |
| ESLORA / LENGHT | 85,34 metros / meters |
| MANGA / BEAM | 24,38 metros / meters |
| PUNTAL / DEPTH | 4,88 metros / meters |
| DWT / TONELADAS DE CARGA | 6.000 Toneladas / ton |
| YEAR BUILT / REBUILT-AÑO DE CONSTRUCCION | 2007 |
| FLAG / BANDERA | Paraguayan |
| REGISTER NBR/ MATRICULA NUMERO | 3475-B |
| IMO NUMBER / NUMERO IMO | - |
| CLASS / CLASE | CLASS NK |
| NET TON / TONELADAS REGISTRO NETO | 783 |
| GROSS TON / TONELADAS REGISTRO BRUTO | 2620 |
| CARGO CAPACITY - CAPACIDAD CARGA | 384 TEUS |
| REEFER PLUGS- ENCHUFES CTRS REFRIG. | 48 |
| BHP / HP | - |
| SPEED / VELOCIDAD | - |
| MAIN ENGINES / MOTORES PROPULSORES | Make/ Model / HP |
| Main Engine 1 | - |
| Main Engine 2 | - |
| Aux Engine 1 | CAT - 3406C / 400 KVA |
| Aux Engine 2 | - |
| Fuel oil capacity / Capacidad fuel oil | - |
| Gas oil Capacity / capacidad Gas Oil | - |
| Ballast capacity / Capacidad Lastre | - |
| F.W. Capacity / Agua Potable | - |
| H&M INSURANCE / SEGURO DE CASCO | Boston Seguros Unum LA |
| P & I / PROTECCION E INDEMNIZACION | Shipowners Mutual P&I |
| | |
| --- | --- |
| TYPE - TIPO | Barge / Barcaza |
| ESLORA / LENGHT | 100,65 metros / meters |
| MANGA / BEAM | 27,45 metros / meters |
| PUNTAL / DEPTH | 6,41 metros / meters |
| DWT / TONELADAS DE CARGA | 10.500 Toneladas / ton |
| YEAR BUILT / REBUILT-AÑO DE CONSTRUCCION | 2012 |
| FLAG / BANDERA | Paraguayan |
| REGISTER NBR/ MATRICULA NUMERO | 3884-B |
| IMO NUMBER / NUMERO IMO | - |
| CLASS / CLASE | CLASS NK |
| NET TON / TONELADAS REGISTRO NETO | 1277 |
| GROSS TON / TONELADAS REGISTRO BRUTO | 4257 |
| CARGO CAPACITY - CAPACIDAD CARGA | 540 TEUS |
| REEFER PLUGS- ENCHUFES CTRS REFRIG. | 64 |
| BHP / HP | - |
| SPEED / VELOCIDAD | - |
| MAIN ENGINES / MOTORES PROPULSORES | Make/ Model / HP |
| Main Engine 1 | - |
| Main Engine 2 | - |
| Aux Engine 1 | CAT - 3406C / 436 KVA |
| Aux Engine 2 | - |
| Fuel oil capacity / Capacidad fuel oil | - |
| Gas oil Capacity / capacidad Gas Oil | - |
| Ballast capacity / Capacidad Lastre | - |
| F.W. Capacity / Agua Potable | - |
| H&M INSURANCE / SEGURO DE CASCO | London - Willis Ltd. |
| P & I / PROTECCION E INDEMNIZACION | Shipowners Mutual P&I |
| | |
| --- | --- |
| TYPE - TIPO | Barge / Barcaza |
| ESLORA / LENGHT | 100,70 metros / meters |
| MANGA / BEAM | 27,40 metros / meters |
| PUNTAL / DEPTH | 6,50 metros / meters |
| DWT / TONELADAS DE CARGA | 10.500 Toneladas / ton |
| YEAR BUILT / REBUILT-AÑO DE CONSTRUCCION | 2009 |
| FLAG / BANDERA | Paraguayan |
| REGISTER NBR/ MATRICULA NUMERO | 3858-B |
| IMO NUMBER / NUMERO IMO | - |
| CLASS / CLASE | BUREAU VERITAS |
| NET TON / TONELADAS REGISTRO NETO | 1314 |
| GROSS TON / TONELADAS REGISTRO BRUTO | 4380 |
| CARGO CAPACITY - CAPACIDAD CARGA | 512 TEUS |
| REEFER PLUGS- ENCHUFES CTRS REFRIG. | 64 |
| BHP / HP | - |
| SPEED / VELOCIDAD | - |
| MAIN ENGINES / MOTORES PROPULSORES | Make/ Model / HP |
| Main Engine 1 | - |
| Main Engine 2 | - |
| Aux Engine 1 | CAT - 3406C / 436 KVA |
| Aux Engine 2 | - |
| Fuel oil capacity / Capacidad fuel oil | - |
| Gas oil Capacity / capacidad Gas Oil | - |
| Ballast capacity / Capacidad Lastre | - |
| F.W. Capacity / Agua Potable | - |
| H&M INSURANCE / SEGURO DE CASCO | London - Willis Ltd. |
| P & I / PROTECCION E INDEMNIZACION | Shipowners Mutual P&I |